Heat-Resistant, Non-Slip, Table Cup Mat for Drinks, Kitchen, Dining
Product Description
#detail_decorate_root .magic-0{border-bottom-style:solid;border-bottom-color:#a8a8a8;font-family:Roboto;font-size:24px;color:#000;background-color:#a5a5a5;font-style:normal;border-bottom-width:2px;padding-top:8px;padding-bottom:4px}#detail_decorate_root .magic-1{vertical-align:top}#detail_decorate_root .magic-2{vertical-align:top;display:inline-block;padding-right:4px;width:50%;box-sizing:border-box;margin-bottom:-4px;padding-left:0;margin-top:-4px}#detail_decorate_root .magic-3{vertical-align:top;padding-bottom:4px;box-sizing:border-box;padding-top:4px}#detail_decorate_root .magic-4{width:371px;height:371px;overflow:hidden}#detail_decorate_root .magic-5{position:relative;left:0;top:0;width:371px;height:371px}#detail_decorate_root .magic-6{vertical-align:top;display:inline-block;padding-right:4px;width:50%;box-sizing:border-box;margin-bottom:-4px;padding-left:0;margin-top:-4px;margin-left:-3px}#detail_decorate_root .magic-7{width:364px;border-collapse:collapse}#detail_decorate_root .magic-8{min-height:18px;padding:5px 10px;width:70px;min-height:18px;box-sizing:content-box}#detail_decorate_root .magic-9{min-height:18px;padding:5px 10px;width:253px;min-height:18px;box-sizing:content-box}#detail_decorate_root .magic-10{vertical-align:top;display:block;padding-right:4px;box-sizing:border-box;padding-left:4px}#detail_decorate_root .magic-11{padding:0;margin:0;white-space:pre-wrap;font-size:14px}#detail_decorate_root .magic-12{font-size:16px}#detail_decorate_root .magic-13{font-size:14px}#detail_decorate_root .magic-15{margin-bottom:10px;line-height:0}#detail_decorate_root .magic-16{margin-bottom:0}#detail_decorate_root .magic-17{position:relative;width:100%}#detail_decorate_root .magic-18{width:750px}#detail_decorate_root .magic-19{overflow:hidden;width:247.33333333333334px;height:247.33333333333337px;margin-top:0;margin-bottom:0;margin-left:0;margin-right:0}#detail_decorate_root .magic-20{margin-top:0;margin-left:0;width:247px;height:247px}#detail_decorate_root .magic-21{overflow:hidden;width:247.33333333333334px;height:247.33333333333337px;margin-top:0;margin-bottom:0;margin-left:4px;margin-right:0}#detail_decorate_root .magic-22{margin-top:-266.35897435897436px;margin-left:-266.35897435897436px;width:773px;height:773px}#detail_decorate_root .magic-23{margin-bottom:10px;overflow:hidden}#detail_decorate_root .magic-24{border-bottom-style:solid;border-bottom-color:#53647a;font-family:Roboto;font-size:24px;color:#53647a;font-style:normal;border-bottom-width:2px;margin-left:4px;margin-right:4px;padding-top:8px;padding-bottom:4px}#detail_decorate_root .magic-25{width:446px}#detail_decorate_root .magic-26{overflow:hidden;width:446px;height:297.3333333333333px;margin-top:0;margin-bottom:0;margin-left:0;margin-right:0}#detail_decorate_root .magic-27{margin-top:-65px;margin-left:-75px;width:595px;height:396px}#detail_decorate_root .magic-28{width:300px;display:flex;flex-direction:column;margin-right:0;margin-left:4px}#detail_decorate_root .magic-29{box-sizing:content-box;text-decoration-style:initial;text-decoration-color:initial}#detail_decorate_root .magic-30{box-sizing:content-box} Product Description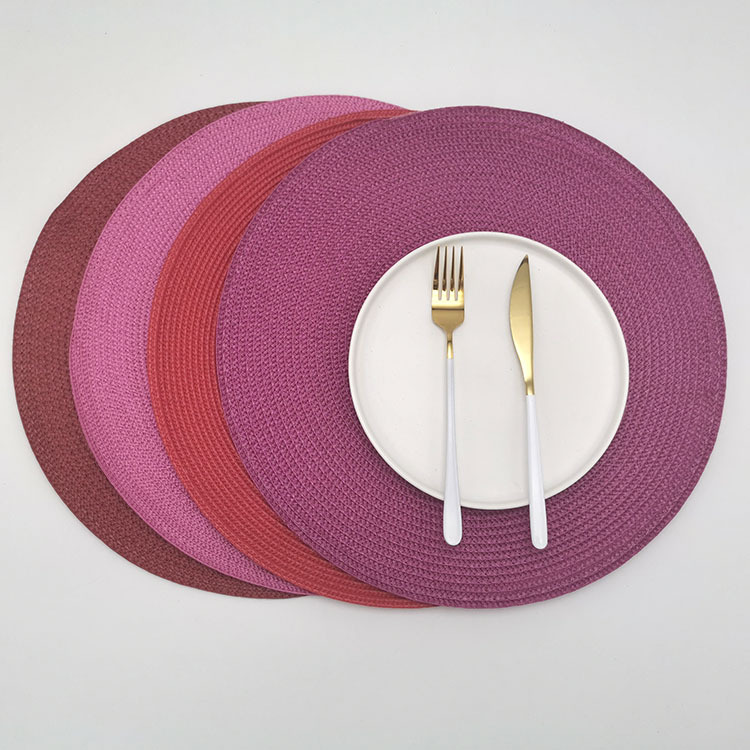 ITEM:

Round Table Mats for Dining

Size:

38cm /65g

Material:

Polypropylene and Cotton

Moq:

50pcs

USEAGE:

Use Shacos round placemats for birthdays, Christmas, housewarming, holiday, parties, family gatherings, weddings, showers, and
more.

Easy to clean:

Easy to clean: Wipe clean with damp cloth. Hand wash in cold soap water and air dry.
Feature 1. Made From Polypropylene and Cotton.
2. Size: approx. 15 inch across, large enough for any plate or bowl.
3. Would be the best decoration and protection to your tables.
4. Great for any occasion and perfect for daily use.
5. Decorative Design. A easy way to renew your table and add a pop of color to your home.
6. Very easy to clean and dry. Handwash cold water. Air Dry. Wipe Clean. Spot Clean
7. Durable, stain resistant, wrinkle resistant, long lasting. Non-fading.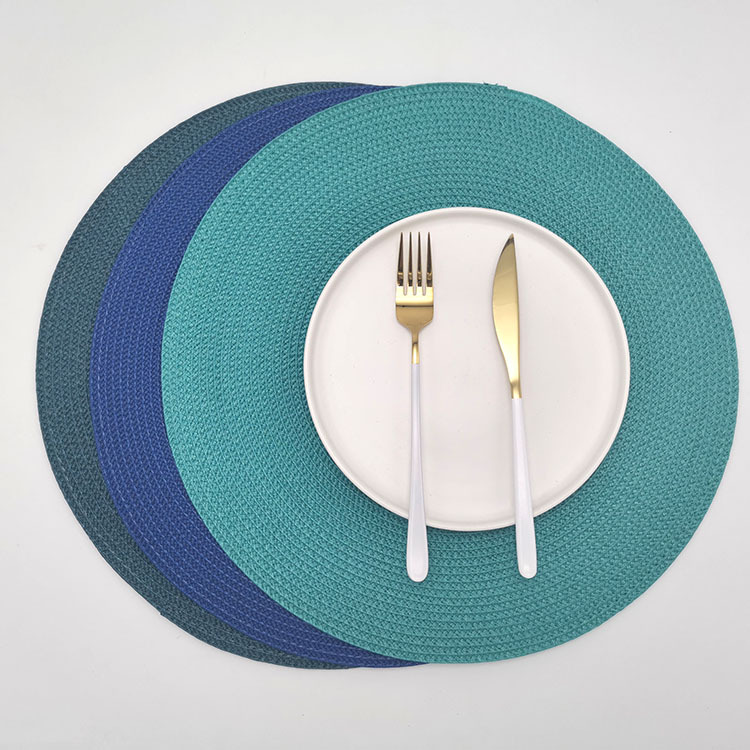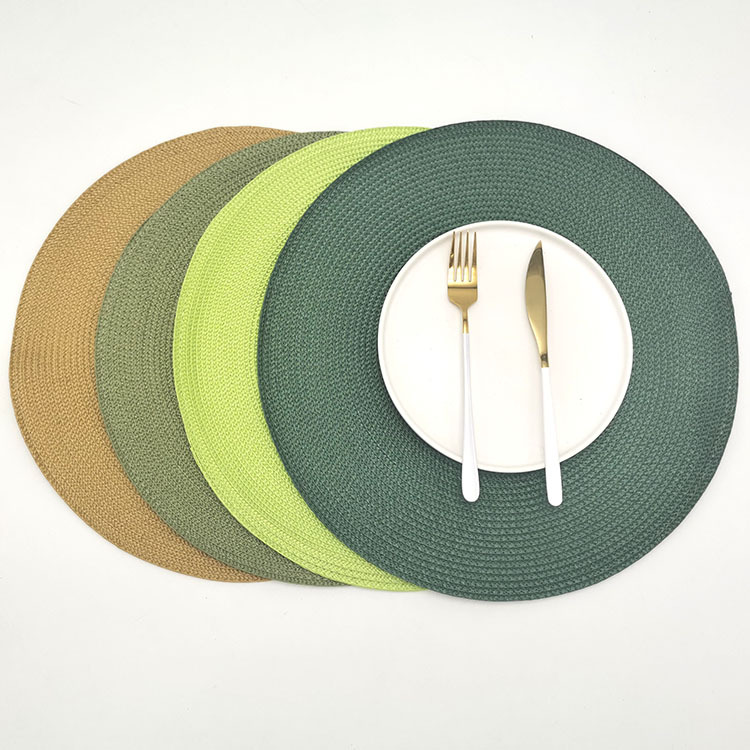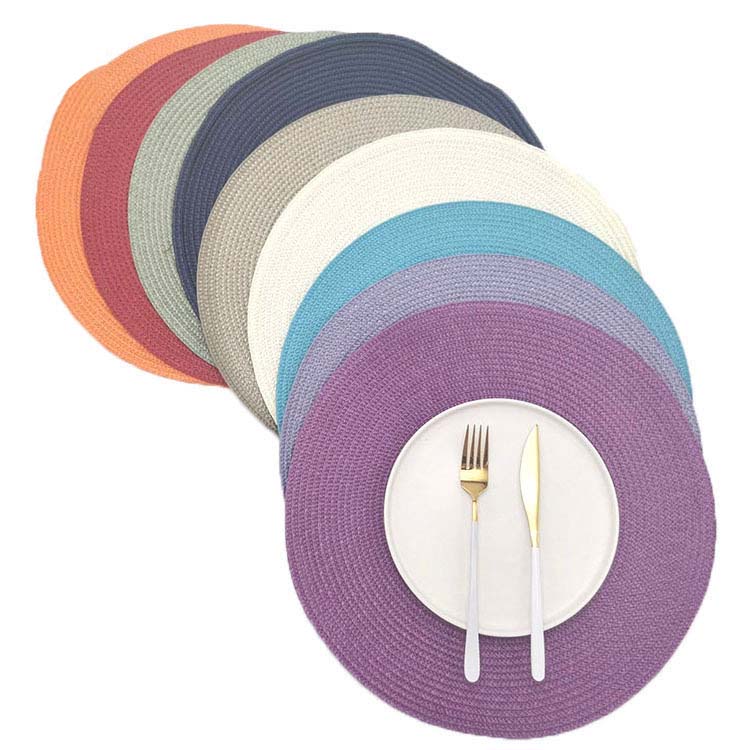 Detailed Images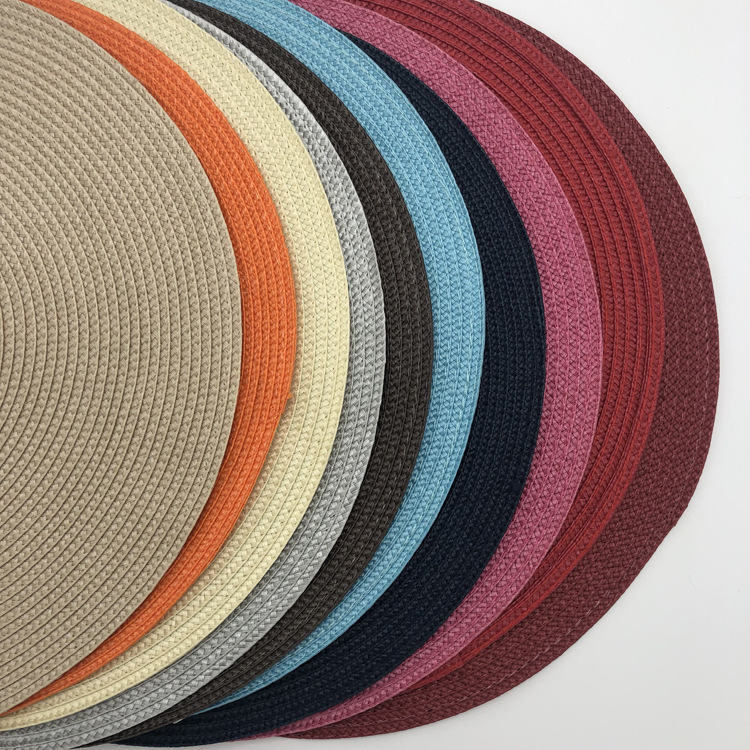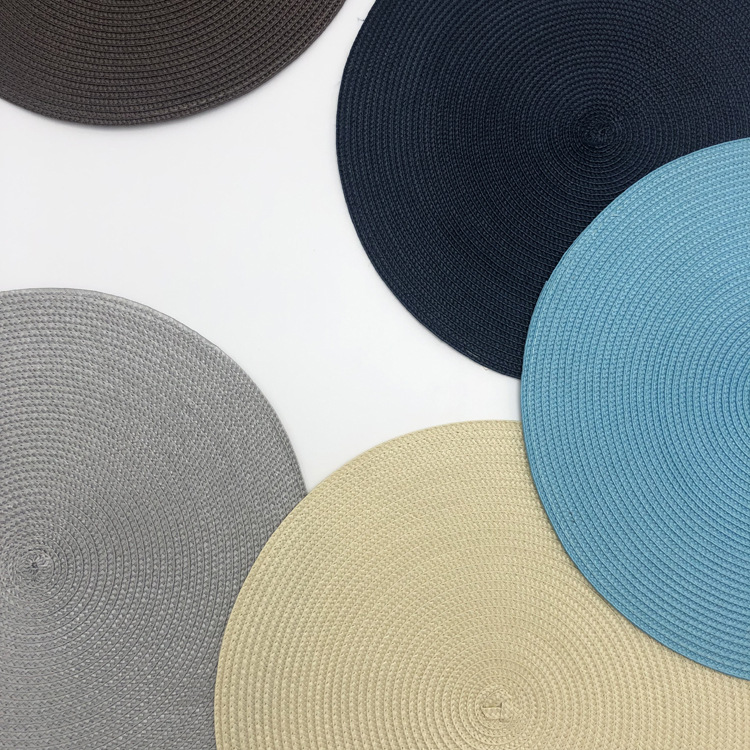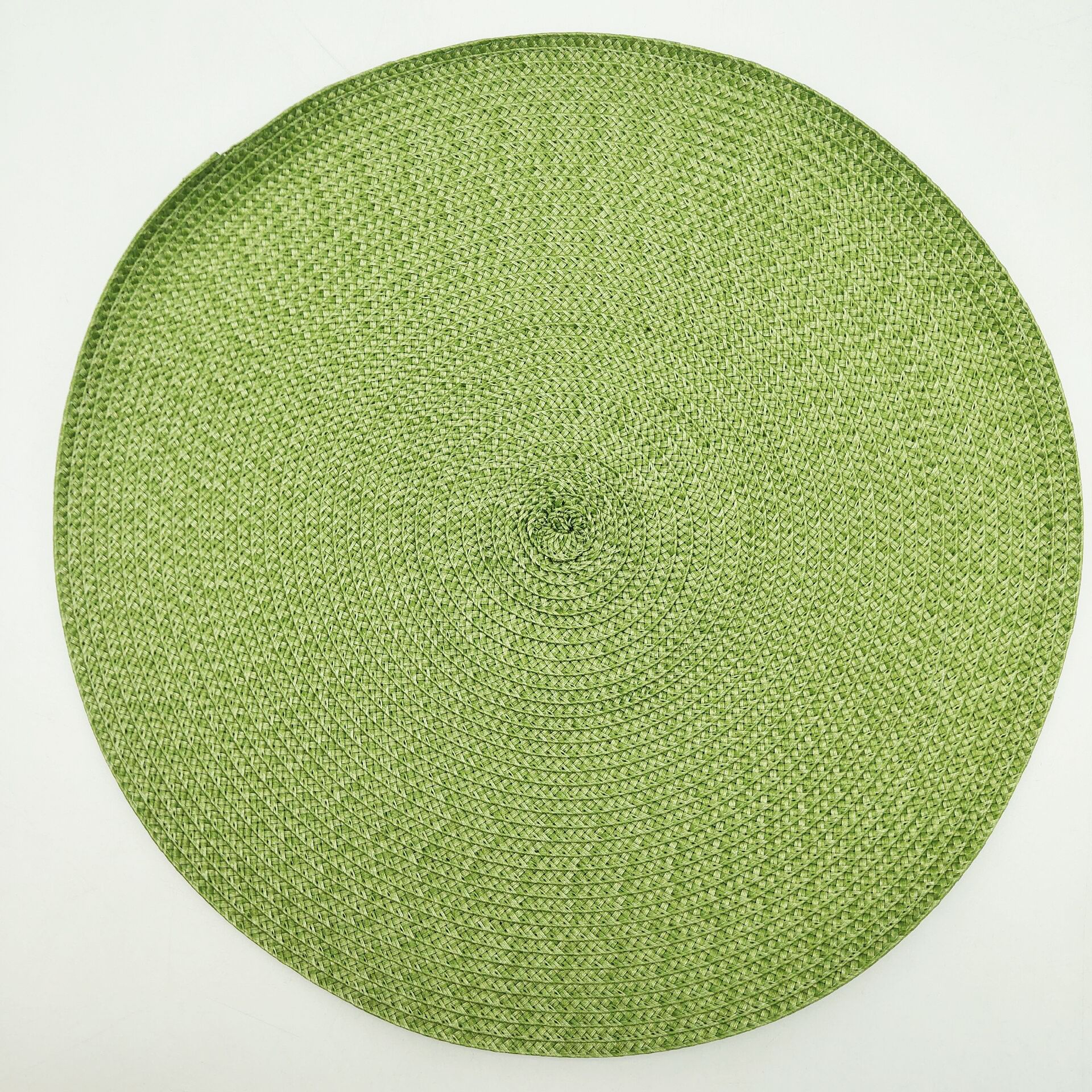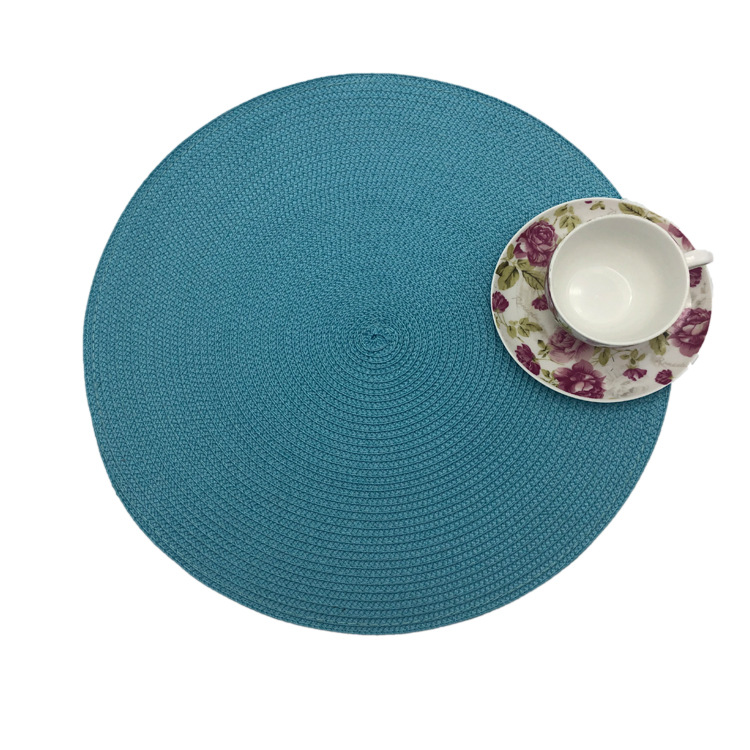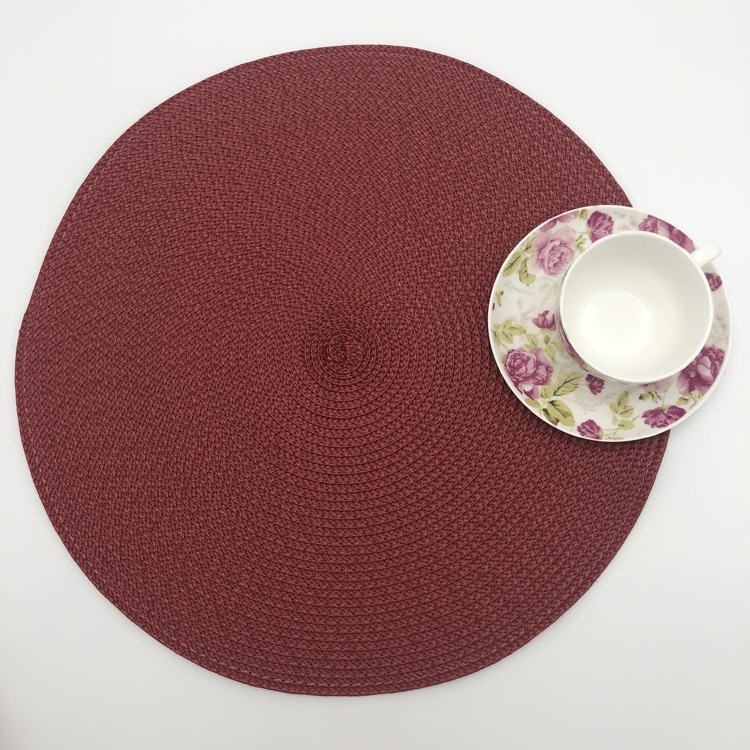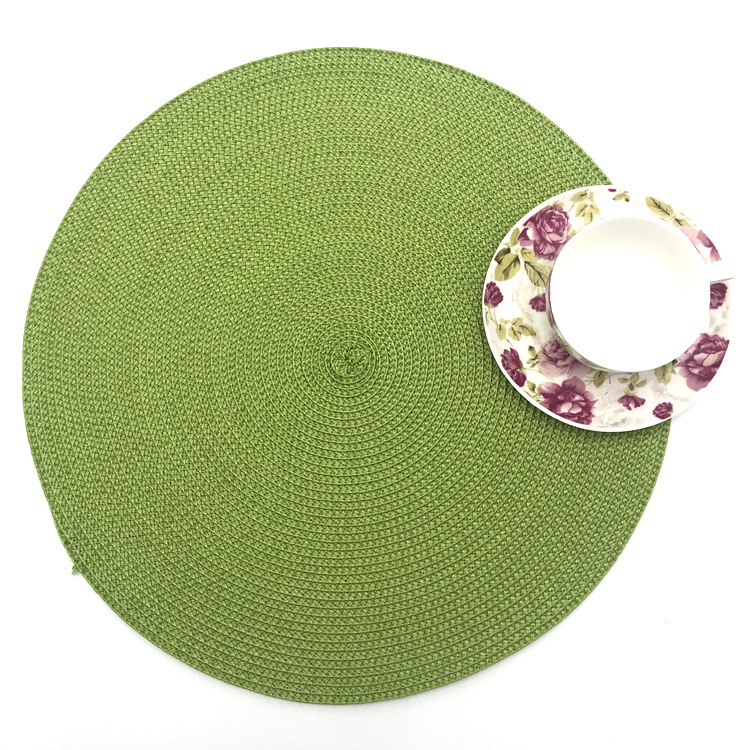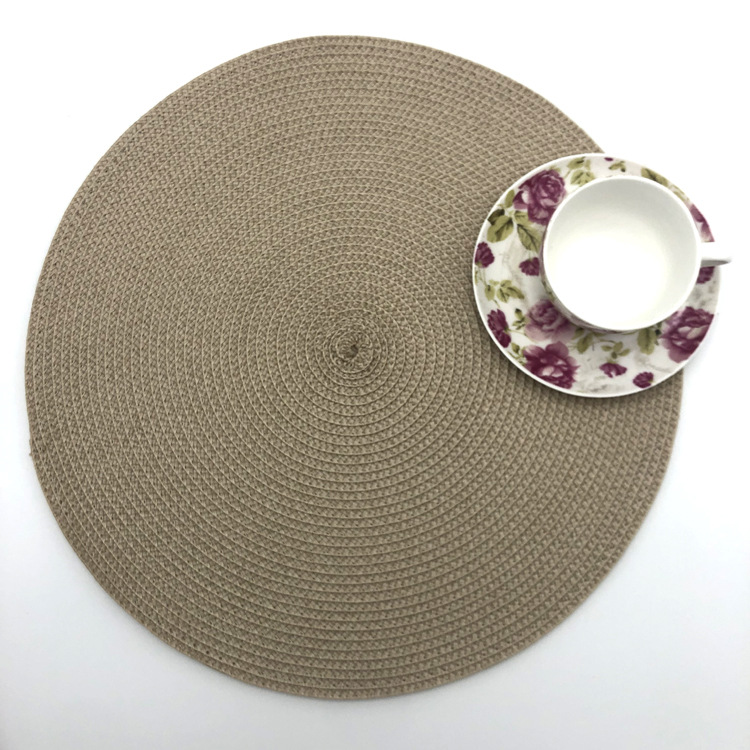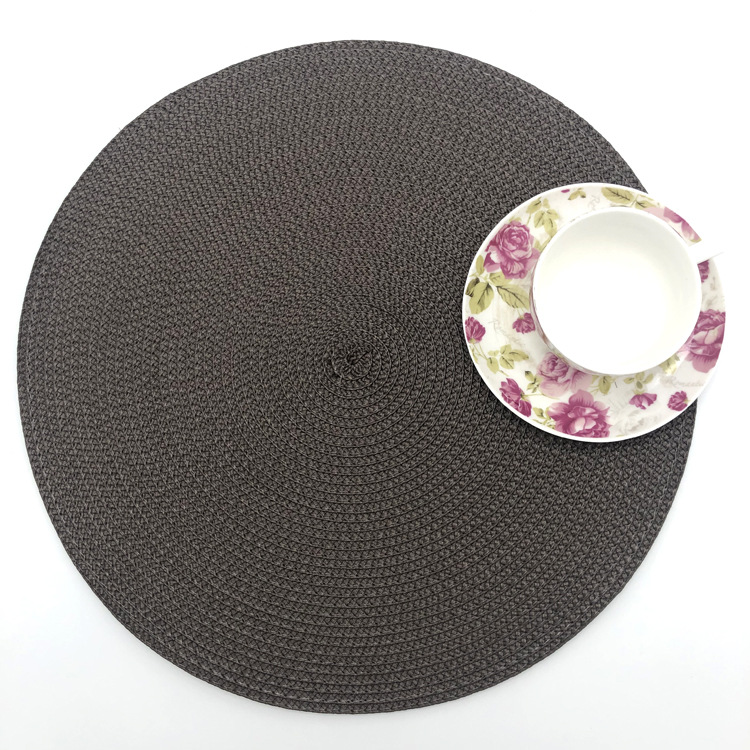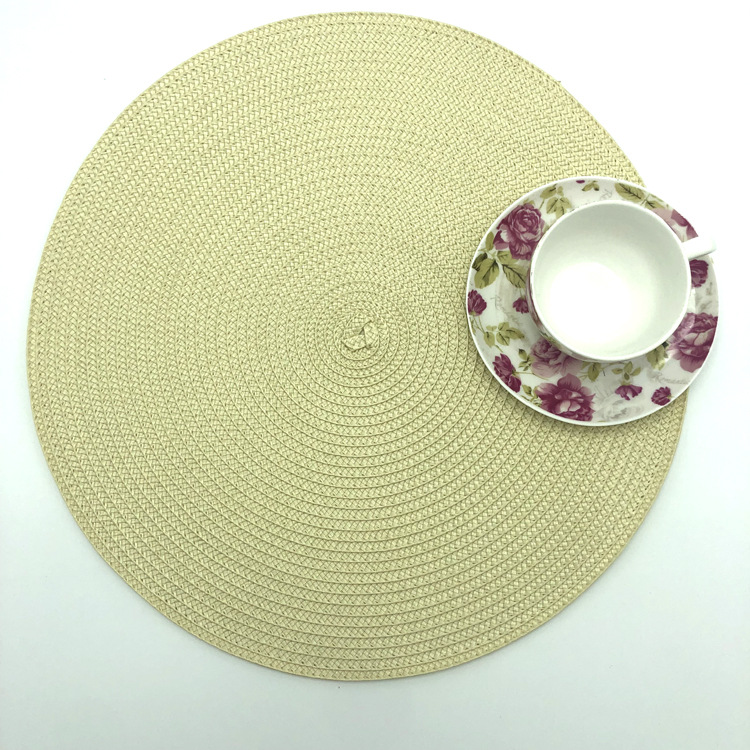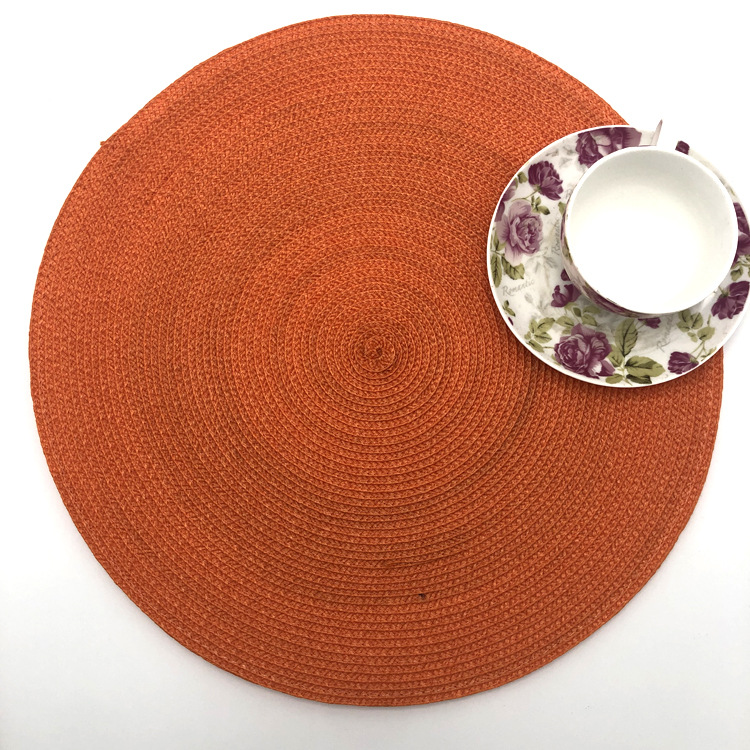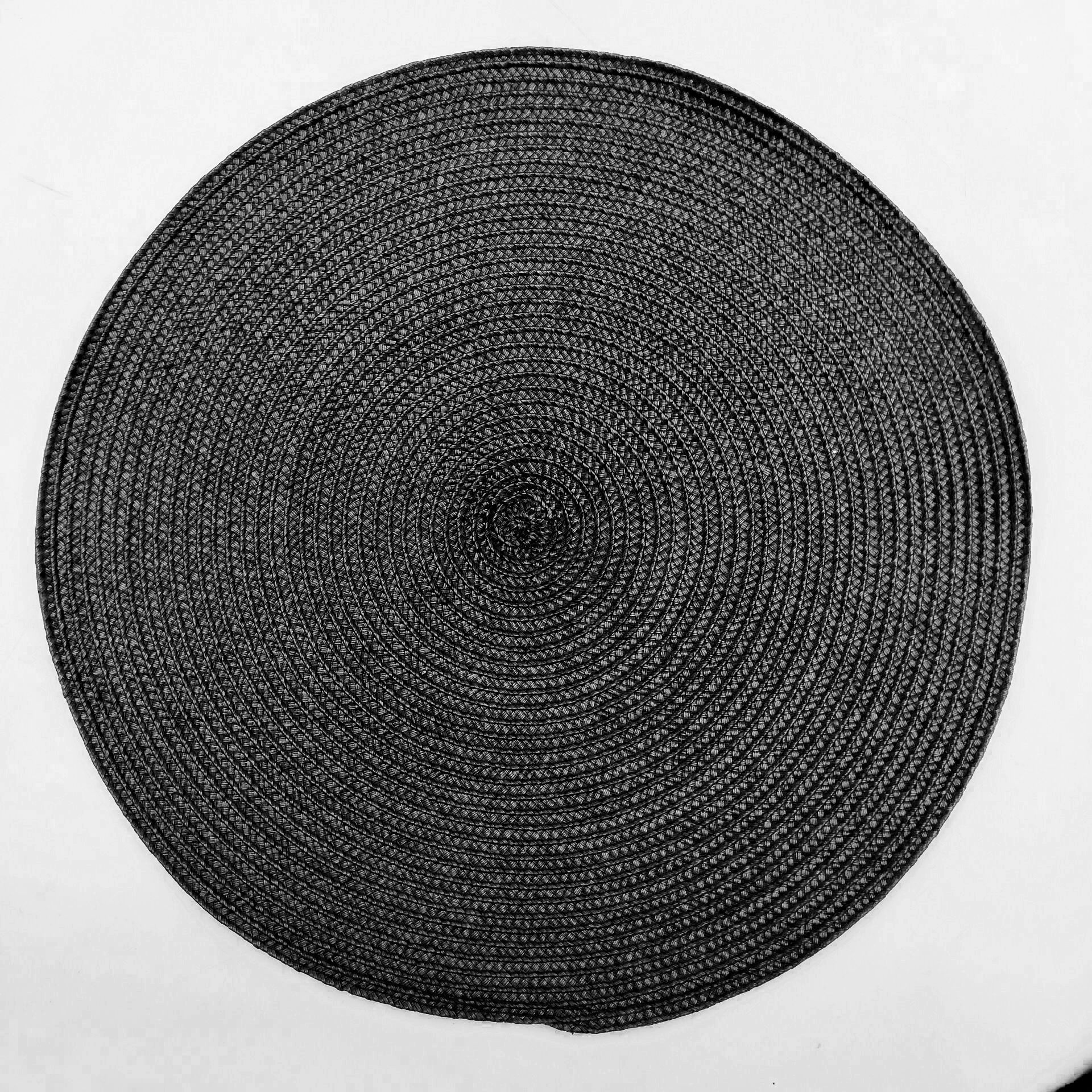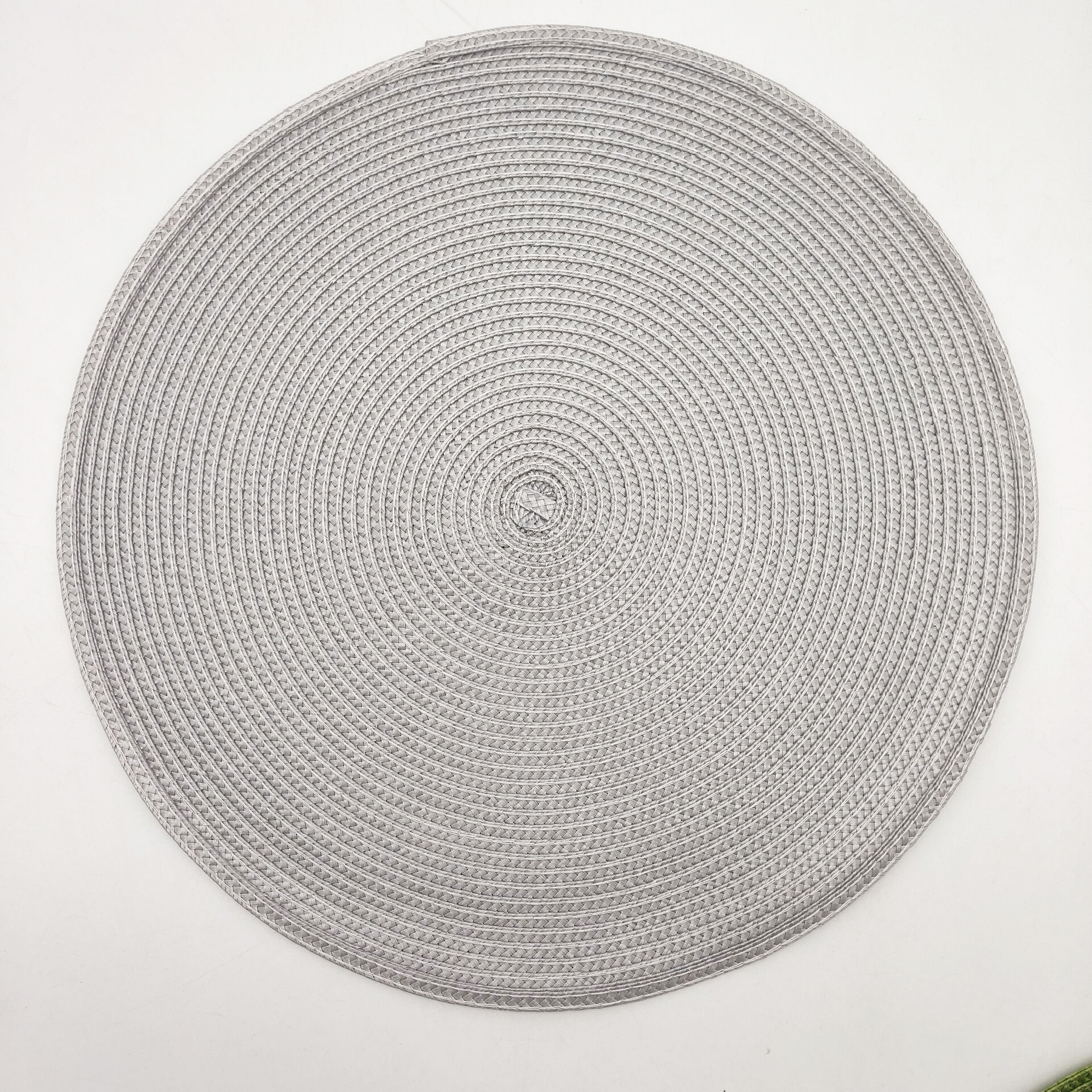 Best Selling Contact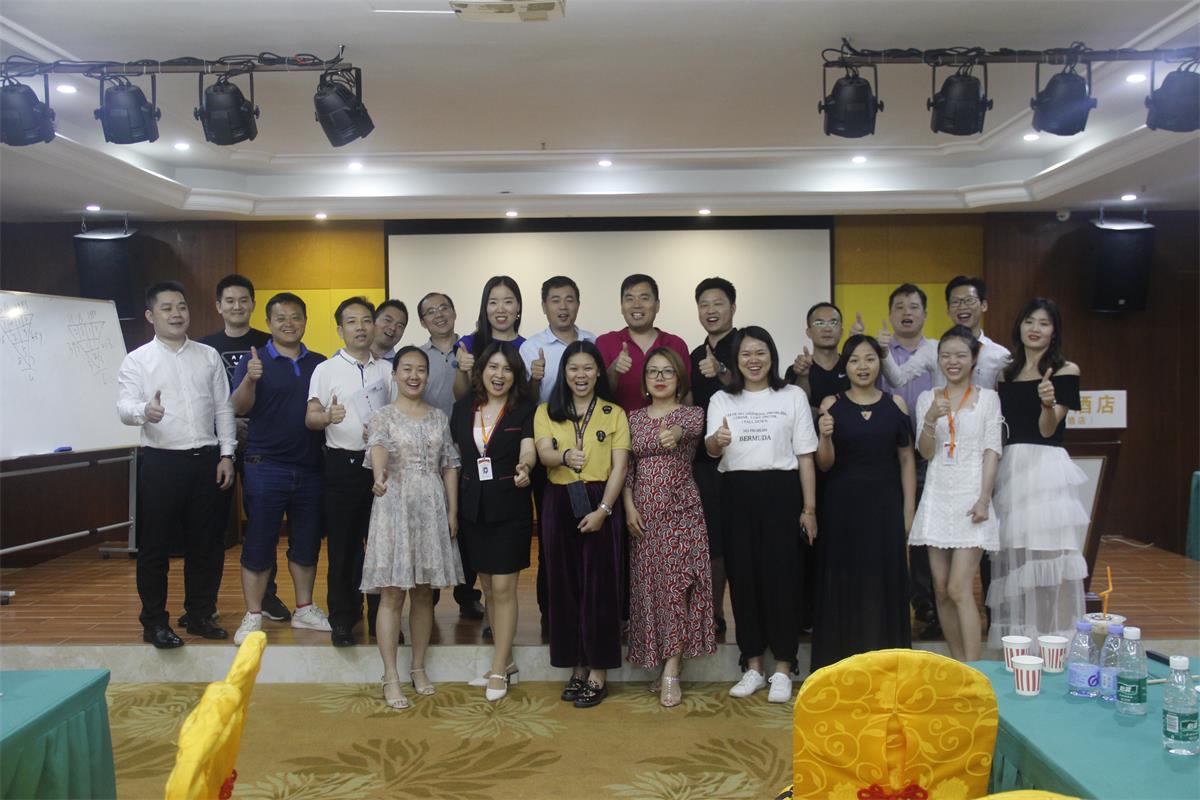 Dongguan KingLo Craft Co.Ltd
Att: Coco
Email: kinglocraft@aliyun.com MP:0086-13642379521 Wechat: christina-0320 Contact us if you need more details on Table Cup Mat. We are ready to answer your questions on packaging, logistics, certification or any other aspects about Heat-Resistant table mat、non slip table mats. If these products fail to match your need, please contact us and we would like to provide relevant information.
Product Categories : Home & Kitchen Products